The NBPA Foundation, the charitable arm of the National Basketball Players' Association (NBPA), welcomed Serge Ibaka to its Board of Directors this month. According to the NBPA Foundation, the appointment highlights Ibaka's personal journey as one that has inspired many players and others while it also speaks directly to the philanthropic role of sports in society.
Sherrie Deans, Executive Director of the NBPA Foundation said, "Serge's insights and his accomplishments in international charity and philanthropy complement the wide-ranging work being done by our board president, Chris Paul and vice president, LeBron James. With Chris, LeBron and Serge on our board, we have an even stronger team to help us support and develop the charitable work of our players in the US and around the world."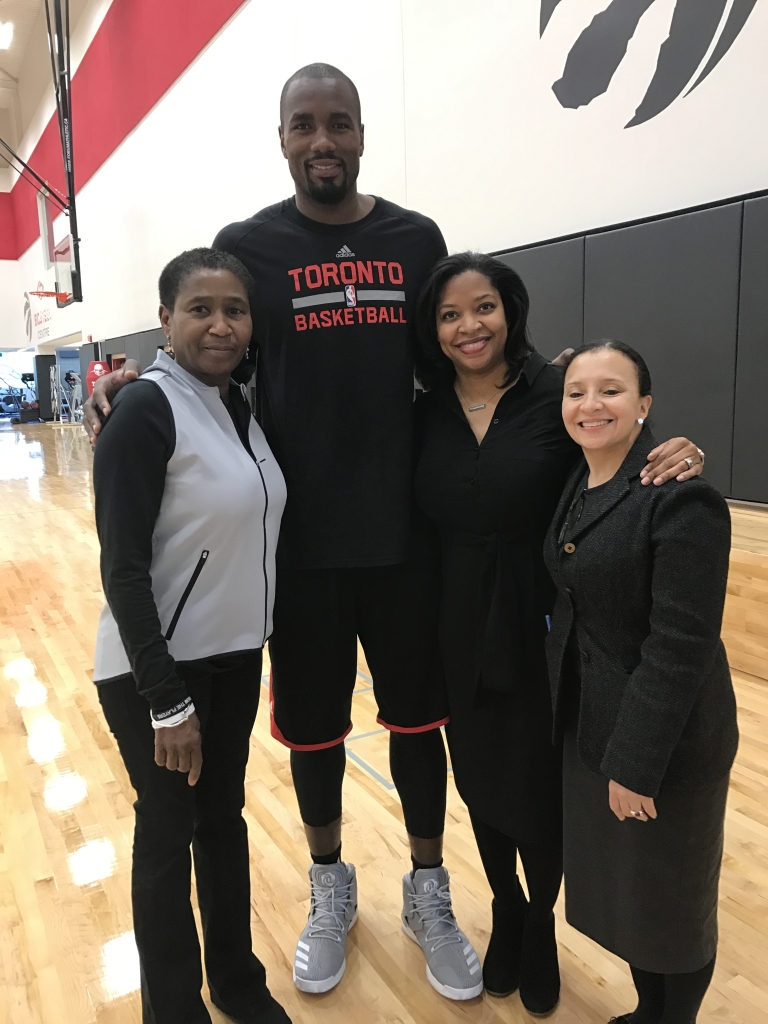 Ibaka with (L to R) Michele Roberts, Sherrie Deans and Chrysa Chin
Since being drafted in 2008, Ibaka has earned a place among the most recognized players in the NBA. He grew up playing on the courts of Avenir du Rail and Charles de Gaulle park in Brazzaville, Republic of the Congo. He left at the age of 17 to pursue a professional career, starting in France, then going on to Spain where he was noticed by NBA scouts after standout performances in international showcases. As seen in the acclaimed documentary film series "Son of The Congo," he is conscious about making his off-court journey a priority when it comes to helping others achieve their highest personal goals Ibaka has made yearly trips home on a mission with the Serge Ibaka Foundation to improve the lives of youth in his hometown and to learn how those improvements can be sustained
Serge Ibaka feels that "it is an honor and a privilege to be part of the board of the NBPA's Foundation. I take it as an opportunity to learn and help and add as much as I can to the already incredible work done by the Foundation". Ibaka and the Serge Ibaka Foundation will work to help the NBPA Foundation, now entering its 20th year, expand his mission and reach internationally, specially in Africa.
Ibaka joins current board members Michele Roberts – NBPA Executive Director, Chrysa Chin, Executive Vice President, Strategy & Development, NBPA, and fellow players and longtime philanthropists Chris Paul and Lebron James. For more information about the Foundation, visit www.nbpafoundation.com.